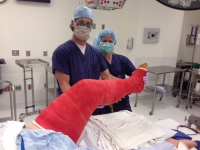 During the four year clinical curriculum, residents rotate through all aspects and subspecialties of orthopaedic surgery at various owned and affiliated hospitals of the University of Pittsburgh Medical Center Health System.
Most of the first clinical orthopaedic year is spent at UPMC Presbyterian, with three months on the orthopaedic trauma service, and one and one-half months each in the sports medicine and spine services. An additional one and one-half months are spent on the adult reconstructive service at UPMC Shadyside. The remaining four and a half months of the first year are spent on the pediatric orthopaedic service at the internationally recognized Children's Hospital of Pittsburgh, which is physically attached to UPMC Presbyterian.
During the second and third clinical orthopaedic years, residents rotate back through all of the above services for additional experience. They also spend three months each on the foot/ankle and hand/upper extremity services, one and one-half months on the orthopaedic oncology service, three months at the Veterans Affairs Medical Center, and four and one-half months at UPMC St. Margaret doing adult reconstructive and general community orthopaedic surgery.
In the final clinical year, three-month rotations are spent on the adult reconstructive service, the orthopaedic trauma service, and the VA Medical Center service. The remaining three months are split between the spine and sports medicine services, with some flexibility for rotation trading among senior residents to meet individual interests and needs.
Residents who spend their second year of training in the laboratory serve as junior faculty in the department during their fourth clinical year, during which they conduct their own orthopaedic services at UPMC Presbyterian and the Veterans Affairs Medical Center.
Students and house staff have access to all patients admitted to orthopaedic services. The house staff assigned to a specific service are responsible for patient evaluation and care; interns and residents work under the direction of the senior resident and attending physicians on each service. Fellows in the department's subspecialty programs - which include research, sports medicine, adult reconstructive surgery, spinal surgery, hand and upper extremities, foot and ankle surgery, and traumatology - participate in resident education. Although the fellows train separately from the residents, the two clinical experiences are well integrated.