Dr. Albert B. Ferguson Jr., MD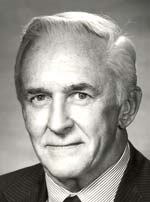 Dr. Albert B. Ferguson Jr. occupied the Silver Chair of Orthopaedic Surgery at the University of Pittsburgh from 1953 to 1986. He retired after 33 splendid years of measurable and immeasurable importance. He put the University of Pittsburgh Medical School on the map and kept it there. It then prospered and grew, in large part because of his enormous contributions and name recognition, which his iconic figure brought to the University.
Shortly after he arrived at Pitt, he established the groundwork to develop all aspects of the orthopaedic program:
He founded the Orthopaedic Surgery Research Lab.
He recruited his dedicated faculty.
He started the Orthopaedic Residency program.
These ingredients provided the framework for quality patient care, teaching, and innovative research, all of which remain the hallmark of the program today.
Ferg chose his residents carefully and in a very unique fashion. If you were an applicant to the residency program and you were also a Dartmouth alumnus, a scholastic athlete, or the child of a physician, you had the inside track for getting in – others, of course, were also selected. This system, or method, proved successful when the residency program produced outstanding orthopaedic surgeons. There were more department chairs and orthopaedic chiefs from Ferguson's program than from any other in the world.
The department had an international flavor. This began during its infancy when some faculty and lab positions were filled with personnel from abroad. He also trained residents and fellows from other countries throughout the world, and soon Pittsburgh Orthopaedics was making an impact on the profession from everywhere. Pittsburgh Orthopaedic Surgery became well recognized nationally and internationally for excellence. Dr. Ferguson was given many awards commemorating his achievements, he published numerous journal articles, he authored several books, and he was awarded honors for these achievements throughout the world. Special recognition was given by the Queen of England. He was honored in Japan in the traditional fashion of that country. In 1976, he served as president of the American Orthopaedic Association and was honored even after his retirement with the History Makers Award for Medicine and Health Contributions to Western Pennsylvania in 2006.
Obviously, this text can't begin to enumerate many other special achievements and recognition that he deserved.
Nearly 20 years into the program, in 1971, Ferg announced his desired to form an alumni association. It was then that the University of Pittsburgh Medical Center Orthopaedic Alumni Association was created. It held annual meetings corresponding with the annual American Academy of Orthopaedic Surgeons meeting in selected convention cities. These functions were always "sold out." The University of Pittsburgh Medical Center Orthopaedic Alumni Association became recognized as the most outstanding and prestigious alumni group in the country.
Ferg's former students and professional associates loved him and gave him the loyalty that he deserved. He is a great American and a great Pittsburgher. He is inspirational and motivating. He possesses a charm and grace that are unsurpassed.
Together, Dr. Ferguson, his alumni, his friends, and his family have proudly raised the funds necessary for the establishment of the Ferguson Foundation, which will perpetuate his legacy.