The legendary Billy Knight visits with the Pitt Men's Basketball Medical Team at the game on Sunday, January 31, 2016.
Born and raised in Braddock, PA, Billy Knight served as a guard/forward for men's basketball at the University of Pittsburgh. He is considered one of Pitt's best players ever and his number 34 jersey was retired by Pitt in 1989.
Knight is a former professional basketball player who spent eleven seasons in the ABA and NBA. He served as the Executive Vice President and General Manager of the NBA's Atlanta Hawks from 2003–08. He is currently General Manager of the New Jersey Nets.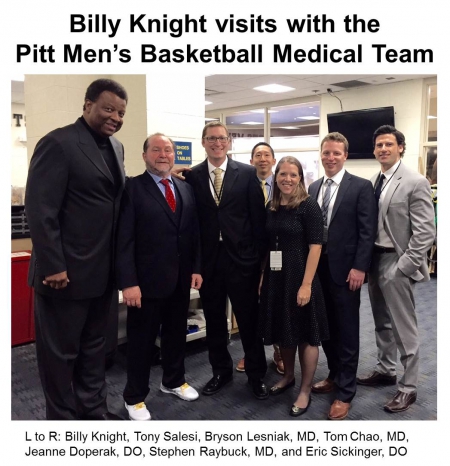 Contact Information
Barbara Moore
Kaufmann Medical Building
3471 Fifth Avenue, Suite 1011
Pittsburgh, PA 15213
412-605-3264